Live Chat Software for any Business
Live chat software is an instant messaging platform to engage with customers and improve the shopping experience. This technology lets the sales rep connect with prospective customers to reduce cart abandonment. It empowers the support team to deliver a faster solution that results in higher customer satisfaction.
Last updated: 12 May 2021
5 Live Chat Software to Consider
JivoChat – An Online chat software offering five agents for free.
LiveChat –

Most Versatile Live Chat Software for businesses of any sizes 

LiveAgent – Best

Omnichannel experience for any customer service.

Smartsupp –

Ideal for any small businesses to boost sales.

ChatBot –

An automated messaging system to reduce support cost.
Live chat software is the new must-have communication channel for any online business. Customers are no longer waiting on emails. They want the option to contact support at any time for their queries.
You cannot afford to have existing or prospective clients waiting in this competitive market. Because it's too easy for customers to walk away. Thus, you need a solution that offers fast interactions.
Keep in mind, it's no longer about having the best product or services at a low price to compete. A winning competition is now base on how fast you reply and deliver. Businesses that don't keep up with rapid communication won't survive for long.
The way of shopping has evolved drastically. Shopping online is the new norm. It's convenient for most consumers. Besides, online shopping is cheaper and less time-consuming. Consumers don't have to drive in heavy traffic that takes time and fuel cost. Instead, they use this time to multitask while having their goods delivered to their doorstep.
Though shopping online is convenient, it does not necessarily offer the same shopping experience as in an actual shop. Face-to-face interaction will always be the fastest way of communication.
But thankfully to live chat software, you can simulate this shopping experience. Customers can enjoy a similar experience as they would in a typical shop. Live chat allows agents to reply instantly to reduce cart abandonment. Thus, customers won't have to wait over the phone or email to make a purchase decision.
Live chat software is not just a simple messaging system. It is an advanced technology with artificial intelligence to grow your business and become the future market leader. The best ones offer the ability to monitor visitor activity on the website. So that the sales rep can make contact to pitch the right product.
#1 – JivoChat – Online chat software offering five Agents for free
JivoChat is one of the top-rated Live Chat software offering five agents for free in its basic plan. It installs seamlessly on any website to quickly engage customers for more sales.
There is no need to have a degree to manage its application. The platform is very intuitive and easy to use.
Its software installs easily on Windows, Mac, Android, iPhone, and browser. On almost any devices that your team feels the most comfortable. All you have to do is Signup with JivoChat to get a code for your site. You can then download the app onto any of your devices. After that, run the installation to start chatting to your prospective customers.
You might be already using Facebook Messenger, WhatsApp, and Apple Business Chat as a way of communication. But, managing so many messaging systems is overwhelming and not very productive. With JivoChat, you integrate seamlessly with these third-party tools. It brings all communication into one portal so your team can reply to any requests faster and efficiently.
Furthermore, it integrates well with Pipedrive, ZohoCRM, WordPress, Shopify, Wix, Opencart, Magento, and many more. Most importantly, you can connect the application to your existing CRM software using JivoChat API. They have a set of API codes available for you to run the integration smoothly. But, if you need help, you can always reach out to their 24/7 customer support. 
While the primary focus is sales fueling, JivoChat does not miss any sales opportunity with its one-click call feature. Your prospective customers can click on the call button to speak to one of your teams directly. This way, your team can move the order faster to decrease cart abandonment. It's a bonus for your team to multi-task and increase productivity.
JivoChat Administrative Panel
JivoChat Administrative panel is simple and straightforward. It is for you to keep up to date on your team productivity and customer activity.
The administrative panel shows the performance overview in real-time for each chat agent. This way, you can proactively take corrective actions to maintain high-class customer satisfaction.
Know about customer's activity on your site
What if you could know more about how the customer found your site?
Well, this opportunity helps the marketing team to strengthen your advertising strategy. That is likely going to increase visitors to your website. As a result, it means more sales opportunities.
The dashboard application shows live customer activity plus how customers got to your website. For example, whether they came through a search query, ad link, link from another website, or social media.
Best of all, the statistic and data are display in real-time. You can quickly jump in to pitch the right product to the customer. 
JivoChat Features Highlight:
Manage all conversation in one window includes emails

Chat Widget supports up to 20 foreign languages

Integrates seamlessly with most major third-party communication channels

Support all major devices (Windows, Mac, iPhone, Android, Web)

Call back options for customers that require phone discussion.

Google Analytics and Reporting tool

Chatbots integration

Team Chats
Apple Business Chat
Chat Transfer
Canned Responses 
Built-in CRM 
14-day free trial
JivoChat offers two price plans:
Free version Plan: Free for the first five agents (Unlimited Chats and websites)
Professional version Plan: All features for $13 per month per agent (billed annually)
#2 – LiveChat – Most Versatile Web Chat Software for businesses of any sizes

LiveChat is the market leader providing the most versatile live chat software for businesses of all sizes. The brand itself explains why it ranked so high on the list.
It's powering over 31,000 businesses worldwide like PayPal, Ryanair, Adobe, and Mercedes-Benz. They're already handling over 50 million chats monthly, hence, making it the most popular & trusted live chat software in the industry today.
Another big bonus for LiveChat is its ability to integrate. The software seamlessly integrates with over 200 third-party software to provide the best user and customer experience.
These integrations include all prime platforms like Facebook Messenger, Google Analytics, ChatBot, Helpdesk, Slack, Microsoft Dynamics, and many more so agents can manage all communication under one portal.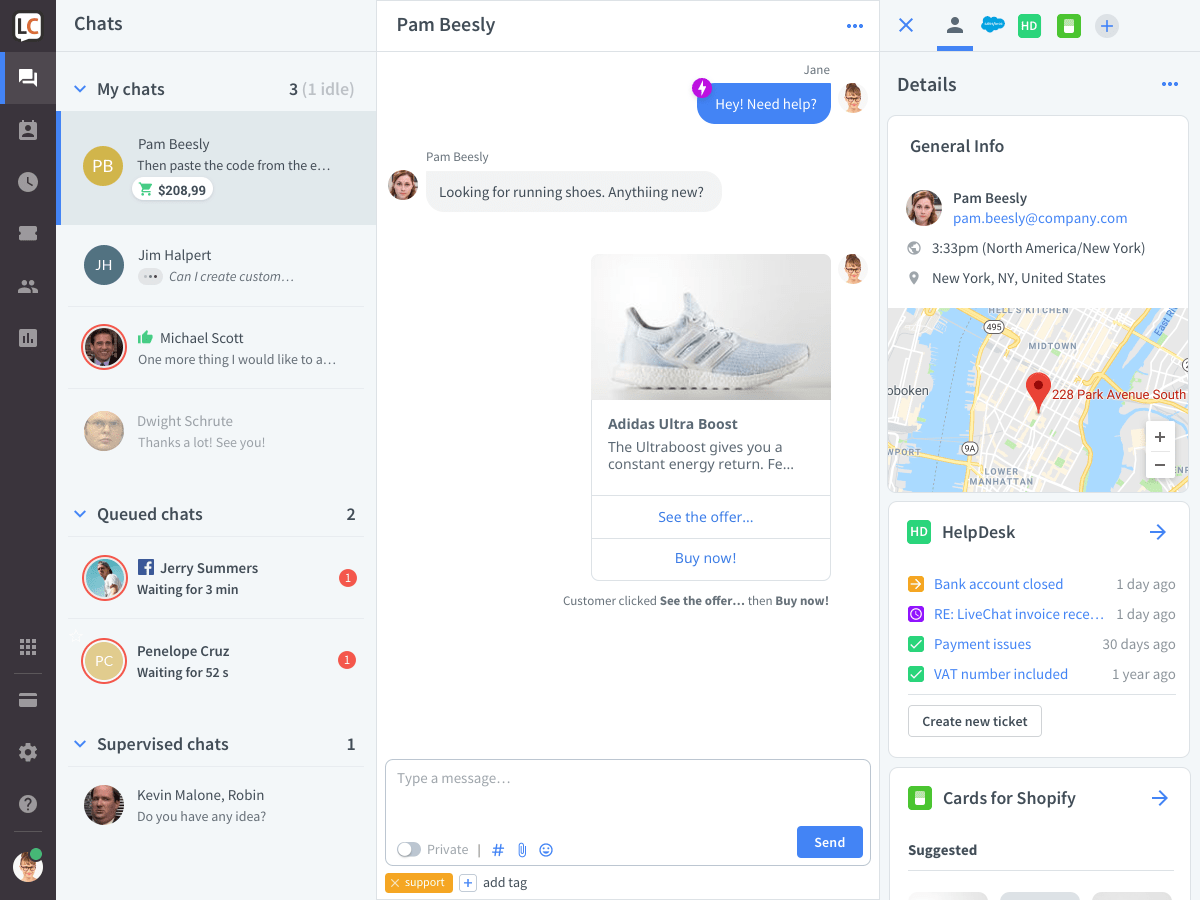 Along with its wide selection of free integrations, it complements with a lot of built-in features and benefits to make business's goals a reality. It has a user-friendly dashboard with the right tool to organize all communication like emails, chats, and SMS on one screen. The dashboard makes it easy to search for previous customer chat.
While the dashboard made it easy for the support team, it also includes a built-in ticketing system. It is ideal for customers who need a ticketing-system. Additionally, the ticketing system is in all its price plans which means no extra costs.
The benefit of having a ticketing system is to keep support requests organized. Furthermore, once users log off from chat, it automatically replaces the chat widget with a ticket form so that visitors can still reach out after business hours.
LiveChat Features Quick Overview:
Add Product cards to live chat sessions

Goals and Sales tracker for return of investment (ROI)

AI Chatbots lead generator

All in one communication channel

Automatic or manual Chat routing

Automatic Ticket creation after business hours

Fully customizable to match business brand

Ban spam chats

200+ Integrations

Secure File Sharing + Chat Transfer
Chat ratings + Custom Languages
Encryption for security
Data Compliance
Reports & Analytics
14-day free trial – No Credit Card
Its list of features is never-ending. SnapCall is another feature that is worth highlighting. During a live chat session, the agent can use SnapCall to call the customer. It can potentially accelerate an online sale. However, this particular feature comes at an extra cost of $20 /month per agent.
LiveChat offers four plans to accommodate any online business of all sizes.
Starter Pack – $16 per agent per month (billed annually)
Team Pack – $33 per agent per month (billed annually)
Business Pack – $50 per agent per month (billed annually)
Enterprise Pack – Custom package price is on request only
For software like LiveChat, it is installed on any website in less than 5 minutes to get you closer with your prospective customer fast.
#3 – LiveAgent – Best Omnichannel experience for any customer service.
LiveAgent has been in the industry providing one of the best Helpdesk software for more than 15 years. The software also includes a Live chat messaging platform with its helpdesk tool. This is one of the reason LiveAgent is the leading omnichannel platform on the market.
Its live chat widget installs on any website in just a few clicks. As compared with other live chat in this list, its live chat widget is the fastest that pops up very quickly whenever a visitor enters your website. The live chat software integrates seamlessly with its ticketing system that continuously records all communication stored for future reference. A very good method to build on a solid knowledge base for a faster response.
LiveAgent uses Zapier as a practice to integrate with many other third-party tools like Gmail, Mailchimp, Slack, ManyChat, HubSpot, Facebook, and hundreds more. You will be surprised to see that LiveAgent also integrates with LiveChat software.
LiveAgent Features Quick Overview
Live chat

: Real-time typing-view allows you to see what your customers are typing before they hit send.

Call Center:

A phone support ideal for those receiving large volumes of incoming calls.

Automatic Callback:

 This empowers your customers to request a callback.

Integration:

 Supports (Facebook, Twitter, Viber, WhatsApp, Gmail, and more)

Automated Ticket distribution:

 Workload balance within your agents.

Free forever Limited Chat button

No Contract & No Credit Card – 14-day Free trial
Its robust multi-channel platform includes Live chat and a Ticketing system for $29 /month per agent. All price plans come with a free 14-day trial without any credit card required. 
Furthermore, LiveAgent offers a pay-as-you-go service with the option to upgrade with no commitment to a long-term contract or pay any setup fee. You can cancel the subscription at any time if it doesn't fit your requirements. 
LiveAgent offers four choices to pick from:
Ticket: – $15 per agent per month (Unlimited Ticket history, email addresses, advanced reporting system, and more).

Ticket+Chat: – $29 per agent per month (All ticketing features, plus unlimited chat buttons, Proactive Chat, and more).

All-inclusive: – $39 per agent per month (Video Call, IVR, Call Center support, IP Phone, Unlimited call recordings, and more).

Free: – $0 per agent per month with limited features (7 days ticket history, one chat button, one phone number, one email address, and more).
Visit LiveAgent for a 14-day free trial or a Free-forever limited chat button.
#4 – Smartsupp – Ideal for any small businesses to boost sales
Smartsupp is been on the market since the year 2013 already serving over 480,000 companies worldwide. Offering one of the most affordable live chat services specialized in lead conversion. Users find it very easy to use with its all-in-one communication dashboard.
Its live chat simplicity is what makes Smartsupp stands out from its competitor. The live chat software comes with a straightforward dashboard that can be installed on any website in 3 simple steps. Upon registration, Smartsupp sends a Chat code via email which has to be copied and place into the head tags of the website.  
Some users prefer to use a desktop or mobile application as a way of communication. For its user's comfort, it offers a user-friendly desktop and mobile apps which can be downloaded from Google play in seconds with a detail instruction how to set it up. 
The only drawback with Smartsupp is the limited number of ready-to-use integrations compare to other live chat software from this list. However, Smartsupp has out-of-the-box integration and API solution if customers wish to integrate with other third-party tools that are not part of its list. 
Smartsupp Features Quick Overview
25% Conversion rate plus 39% increase in customer loyalty
3x Customer engagement
User-Friendly all-in-one dashboard and Video Recordings
Customizable Chat Bot
Reporting System
Applications: Mobile Application for iOS and Android, Windows App
Integrations: Facebook Messenger, Google Analytics, File Sharing, WordPress
Free Forever – 3 Agents + 3 Chatbots
Live chat Smartsupp is well-known for its lead conversion. Focused on converting every fourth conversation to customer order. Well, that's the idea behind live chat on a website to boost sales which explains why businesses are chasing Smartsupp to get live chat installed in their environment. 
Comparing the price with other live chat from the list, it offers the most affordable service where customers can pick one from their 3 package plans.
Save 33% on all Yearly plan:
Free plan – $0 for 3 Agents + 3 chatbots forever free with basic functionalities
Standard Plan – $10 for 3 Agents /month + Unlimited chatbots and more
Pro Plan – $19 per agent /month All features included
The live chat forever free plan allows customers to try it for free with 3 agents and 3 chatbots and they can upgrade as they grow. 
#5 – ChatBot – Automated messaging system to reduce support cost

The ChatBot is the future of live chat. It's designed to automate an organization's customer service. This software never sleeps, engaging with customers faster to keep businesses running 24/7. Big relief for the customer support team who doesn't need to work over hours anymore.
ChatBot has tons of ready-made templates for various types of industries. That makes it easy to design any custom conversation scenarios to fit the company's needs. Also includes the eCommerce bot template to help customers through their buying process.
This technology is fully powered by Artificial Intelligence which can potentially solve customer's issues on its own. ChatBot connects to the knowledge base to find past chat and solutions to assist customers after business hours. 
ChatBot might seem expensive but looking over a long-term plan, Chatbots are considered as very cost-effective software for any type of business that focuses on saving money. So don't let the price scare you away. 
ChatBot Features Quick Overview
Power up Marketing: Engage prospects and customers across the Omnichannel.
Supercharge your sales: Generate and qualify leads automatically. Higher conversation rate.
Optimize support: Improve resolution times and reduce workload from the support team.
The ChatBot comes with 3 different price plans to choose from. 
Starter Pack – 1000 chats /month + 1 active ChatBot – $50 /month ($0.01 for additional chat)
Team Pack – 5000 chats + 5 active ChatBots – $149 /month ($0.01 for additional chat)
Business Pack – 25, 000 chats + Unlimited Active ChatBot – $499 /month ($0.01 for additional chat)
An enterprise package is also available on request for larger businesses. 
It comes with 14 days free trial with no credit card required. 
How to pick the best Live Chat service?
There are tons of Live Chat software on the market. However, each one comes with its own set of features and benefits where many of them are not 100% reliable. 
The best live chat software offers crucial features designed to improve your customer experience, increase employee productivity, and convert leads to order. 
There are five main factors that I look for while choosing the best Live chat software. 
Top 5 crucial features in Live Chat:
1) Number of Agents
The number of agents is a crucial factor to consider. It is common sense that there is a difference between a company of 5 to 100 agents. That is why Live Chat Software comes with a limited number of support agents who will have access to the software. Therefore, picking the right package that includes the number of agents that suits your business is decisive.
Mainly, for companies anticipating future growth, the service must be scalable. The service must be easy to upgrade from the existing plan to accommodate future expansion.
2) Support Channels
Support channels are another aspect to look for in Live chat software. Using multiple channels like WhatsApp, Facebook Messenger, Skype, or Viber as a way of communication with your existing customers may not be very productive. Staff could be missing out on customer requests or large orders. In reality, there is a greater risk of escalation or customer dissatisfaction.
As a solution, live chat software integrates with all these channels to manage all messages from one platform efficiently. Live chat will help your team productivity by attending to customer queries much faster.
3) Automation
Automation reduces support cost, plus it allows the support team to focus on a critical task while the Chatbot is busy answering a known request. This automated system can begin the greetings and assist the customer while the agent is busy answering two concurrent chats.
Chatbot never sleeps, neither takes lunch breaks nor goes on vacation leave. It keeps your business running 24/7. A chatbot is an Artificial Intelligence (AI) providing a self-service solution that can potentially solve customer's requests outside business hours.
4) Ticketing System
A ticketing system is a common tool for any customer support. This tool is designed to manage and track issues in an organized way. It allows customers to reach the support team offline in case the issue requires deeper investigation.
Not all Live Chat Software includes this tool in their package plan. Some offer it as a free add-on where others require an additional or do not have it at all. If a ticketing sytem is a primary feature for your company, make sure that live chat software includes a ticketing system in the package.
5) Reporting Tool
A reporting tool is one of the basic features of live chat software. This tool provides valuable information for management to keep track of the performance of the support team and the overall health of the company. Management can stay in full control of everything. It helps for budget planning and vision potential company growth.
In case the support team is experiencing a large volume of chats, management can proactively look for more resources to avoid possible support delays.
Quick Recap
Overall, all Live Chat from the list is reliable and trustworthy. Designed to reach any business needs. They have all the necessary features in place to take care of all business sizes.
We're constantly growing and expanding our service options. New content & posts are published every week. Follow My InFinitY Source to get the latest guides & reviews for you to make the right choice the first time.